Today's networks need to be optimised for wireless-first and The Internet of Things (IoT) connectivity. You need a flexible network infrastructure that supports both multigigabit fibre and copper connectivity plus high power over Ethernet (PoE) power at the edge and fibre to the room (FttR)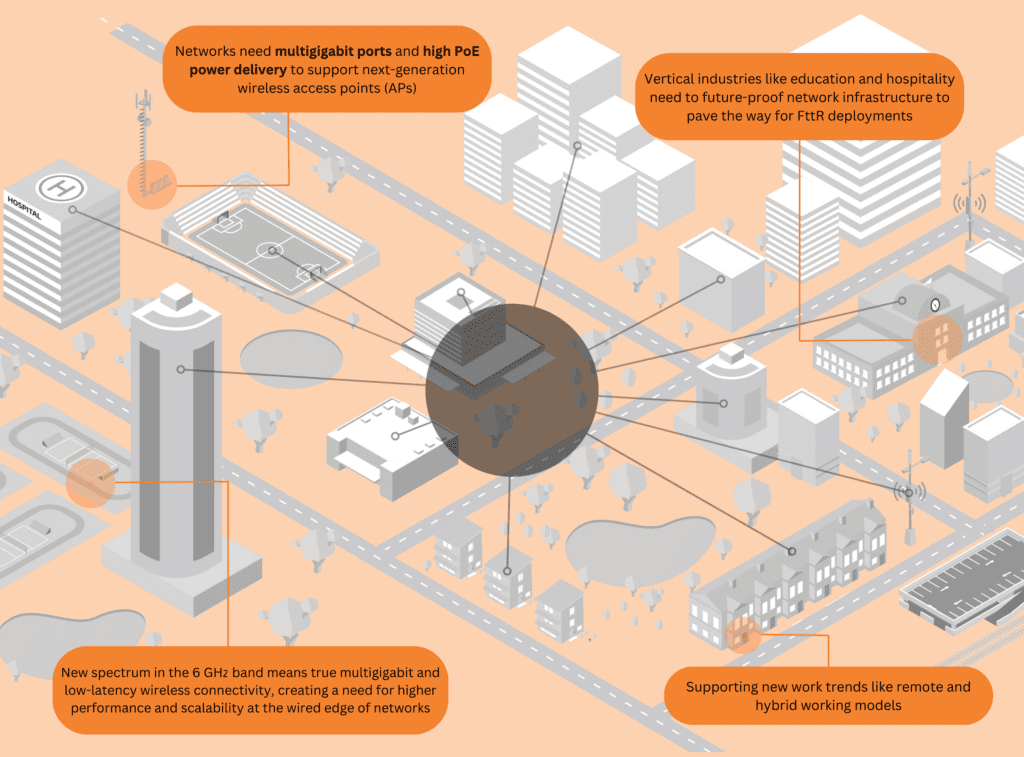 Switching on the future with RUCKUS ICX 8200
RUCKUS ICX 8200 access switches are tailored to enable next-generation wireless-first and IoT networks. They offer manageability, performance, and reliability with the flexibility, cost-effectiveness, and "pay as you grow" scalability of a stackable solution. Key features include:
Unmatched connectivity options: gigabit, multigigabit edge ports and FttR in a single stackable switch series.
Maximum performance: 2.5/5/10 GbE edge ports for the latest multigigabit Wi-Fi APs with support for Wi-Fi 5, Wi-Fi 6/6E, Wi-Fi 7 and beyond.
Up to 8x 25 Gbps SFP28 dual-mode uplink/stacking ports: eliminate uplink bottlenecks and deliver low latency for cloud applications.
High power delivery: power next-generation wireless APs and IoT devices with up to 90 W per port of PoE and a high PoE budget up to 1480 W per unit.
Deployment flexibility: RUCKUS signature advanced stacking capabilities, up to 12 units on standard SFP+/ SFP28 fibre ports up to 10 km. Makes deployment simpler and eliminates the need for specialised hardware for stacking.
Enhanced security and data privacy: with VXLAN support for advanced network segmentation and data confidentiality.
Three years of technical assistance plus centre support: in addition to a limited lifetime warranty with every ICX 8200.
Power-over-Ethernet (PoE) ports are forecast to compose over half of the total switch port shipments by 2027.
At Nextro, we design New-Generation Network solutions to guarantee our clients high performance, reliability and protection.
Discover how to switch on the future with Nextro's Network solutions. Contact us today.