A checklist for New Zealand technology leaders seeking an 'always on' business continuity strategy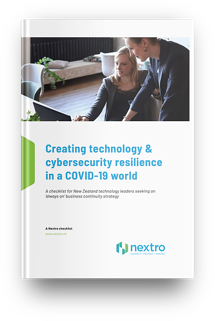 The COVID-19 pandemic may have enabled technology leaders to deliver two years of digital transformation projects in a few months, but it has also put business resilience and cybersecurity at the top of CEO and Board agendas.
We have prepared this checklist to help you identify the necessary technology and cybersecurity areas to consider to enhance your business's resilience.
This checklist covers the 3 key areas you need to focus on:
Cloud platforms – What do you need in place to ensure that your cloud strategy enables business resilience?
Flexible, distributed workforce – How does your business ensure that you achieve true flexibility and cybersecurity whether you're working from behind the main office firewall or from home?
Cybersecurity – What are the specific cybersecurity initiatives you need to undertake to achieve business resilience?