You invest a lot to provide a great living experience in your multi-dwelling units (MDUs). Whether it's student or military housing, luxury apartment complexes, senior living or other properties, your residents expect more. They no longer see you as just the landlord; they want you to be their network service provider too. That means supporting a huge number of smart devices, demanding video and gaming services, and other high-bandwidth wireless applications. And it means making the network that delivers those services just as reliable as residents' water, heat and electricity.
That's a lot of technical challenges to overcome. But your residents don't want to hear about how hard it is to provide great Wi-Fi in places with thousands of devices, large indoor/outdoor coverage areas, and multi-story buildings. All they know is that the property down the street has the best Wi-Fi. Does yours?
Give residents unlimited wireless access at no additional charge
Wi-Fi is becoming a bigger factor in where people decide to move and whether they stay. Network access rolled into the rent sounds great to residents. But wireless dreams can quickly turn to nightmares—for both your residents and your business—if your Wi-Fi isn't simple, reliable and secure.
CommScope makes it easy to deliver high-performance Wi-Fi across thousands of units and tens of thousands of users. Even in environments with mixed indoor and outdoor spaces, brick and concrete construction, and high device density, you can provide secure, reliable connectivity. With simple, secure onboarding and management, great Wi-Fi doesn't have to be more complicated than any other utility on your property.
Deliver consistently great performance, even when usage surges
Residents are connecting more devices—laptops, smartphones, gaming systems, and smart home devices. They want a connected home with wireless services that link every aspect of their work and play. They're looking for you to give it to them.
RUCKUS 802.11ac and Wi-Fi 6 wireless solutions support more simultaneous devices and higher-bandwidth applications, even in challenging residential environments. Our RUCKUS access points with patented BeamFlex+ antenna technology continuously optimise each connection—enabling each access point to provide better coverage, support more users and provide a great connection experience to every user.
Onboard devices simply and securely
Your residents' Wi-Fi love will quickly turn to hate if connecting their devices is a chore or if they have to constantly provide credentials to log back onto the network. And, if they're relying on you for their Wi-Fi, you'd better make sure you're protecting their sensitive traffic.
Our certificate-based onboarding makes Wi-Fi access simple—for both your residents and your IT team. Residents can connect any device, anywhere on the property, in seconds, through a branded self-service portal. They can log on once and never have to do anything again. And they can do it all through a platform that protects every connection with the strongest wireless encryption.
Transform MDU technology into a revenue-generating, profit-producing, brand-building asset that elevates long-term property value.
As the pioneer and standard-bearer for managed Wi-Fi in MDU properties, RUCKUS® solutions equip owners and developers with a promising revenue stream that simultaneously reduces overhead and enhances the resident experience.
Only RUCKUS technologies deliver the complete solution that is purpose-built to meet your current and future connectivity needs.
71% of MDU residents say pre-installed Wi-Fi was an important factor in deciding where to live1
$11.5 billionin 2022 revenue potential for smart and IoT systems in MDU properties2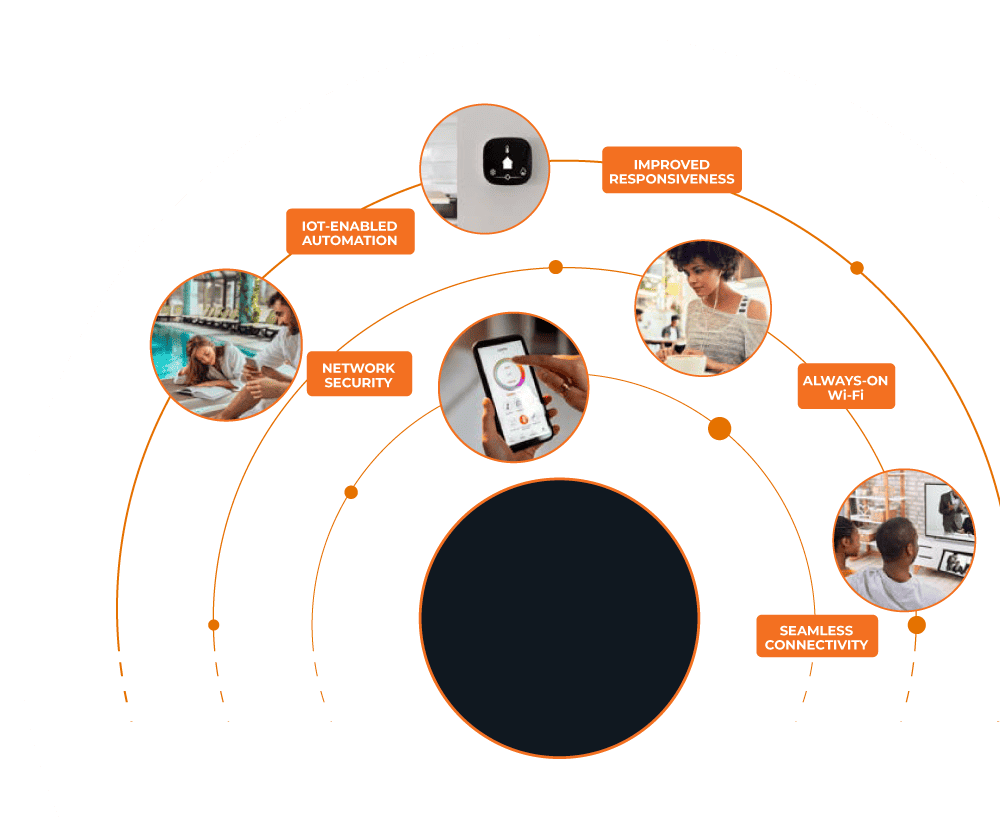 REVENUE OPPORTUNITY
Elevated resident experiences
Our always-on, high-performance Wi-Fi connectivity is available when a resident moves in. This makes a strong first impression and reduces the risk of unreliable access when provided by multiple siloed networks. Owners can even make Wi-Fi calling an option as a workaround for 4G/5G limitations. The RUCKUS IoT suite paves the way for next-gen "smart" door locks, thermostats, appliance and lighting control and more — conveniences that residents will appreciate.
Greater building efficiency
Receiving technology, services and support from a single connectivity provider takes less time to manage. Maintenance teams can rapidly complete resident move-in procedures and service calls with property-wide connectivity, freeing up more time to focus on other tasks and decrease truck rolls. IoT-enabled automation and usage insights also reduce the building's energy footprint while producing data for analytics and reporting. And in the rare event, an issue arises, the RUCKUS support team is always available to help.
Improved property value
By growing revenue even in fully occupied buildings and reducing overhead through property-wide Wi-Fi and IOT-enabled efficiencies, MDU property owners/developers have a powerful new tool for improving NOI performance. In addition, they can elevate brand visibility by offering the smart, resident-centric buildings the marketplace demands — properties that will continue to increase in value well into the future
Flexibility for the future
RUCKUS software and hardware are engineered to support current and future connectivity standards, protocols and technology, featuring open compatibility with systems and devices from third-party providers. This helps ensure properties can immediately leverage the latest innovations to stay on the cutting edge for years. MDU technologies, including CommsScope® Rapid Fiber, are designed to assist vintage properties with the cabling and infrastructure needed to offer the latest connected experiences to residents.
The 4th utility
Centralised, always-on Wi-Fi adds efficiency, convenience and security throughout the MDU property — from individual units, common spaces and the business office to the surrounding grounds and parking areas.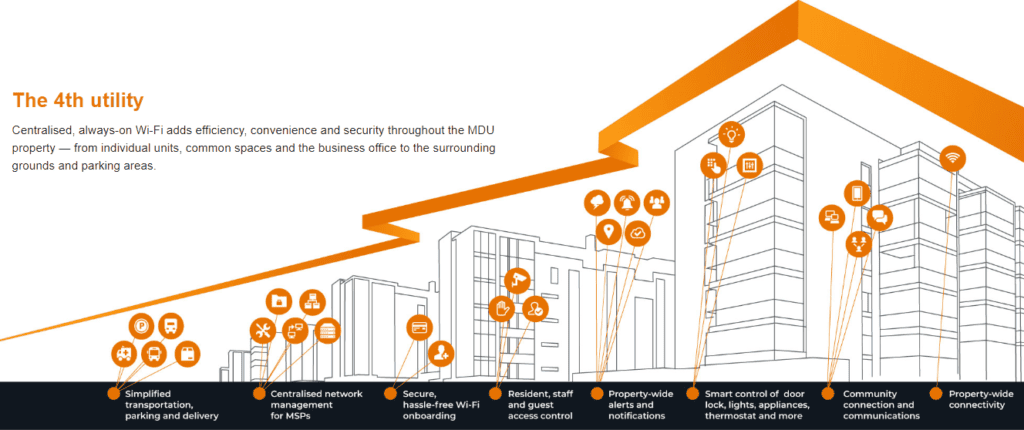 1 National Multifamily Housing Council (NMHC)/Kingsley Associates. 2020 Apartment Resident Preferences Report.
2 Continental Automated Buildings Association (CABA). Connected multi-dwelling units and the Internet of Things, a landmark research project. 2017: 22.
Want to learn more about Connectivity options for your MDU or business? Get in touch here.