According to a survey conducted by English hotelier Roomzzz, 65% of guests were online within seven minutes of checking in and one third requested the Wi-Fi® password as soon as they arrived. For most hotel guests, Wi-Fi is no longer considered an optional amenity but rather an absolute necessity that will greatly impact overall guest satisfaction.
---
Delivering Good Guest Wi-Fi Experience Is Hard
We've all had both good and bad experiences with hospitality guest Wi-Fi systems when we travel for work. This being said, when it's just us adults, we know how to work around the majority of the severe problems and then we just live with the minor ones and move on. However, when travelling with kids, hotel Wi-Fi problems help us discover entirely new levels of pain that we didn't even know existed. The problem largely surrounds the electronics that kids bring with them. Kids won't go anywhere without their game consoles! If parents tell them they can't bring them then they don't even want to go on the trip. When they do bring them, the hotel Wi-Fi is often incompatible with them which results in an incredibly frustrating experience for all parties involved.
Traditional Guest Wi-Fi Architecture No Longer Cuts It
The vast majority of hospitality Wi-Fi networks are designed around the same simple architecture. A single open SSID with forced browser redirection to a captive portal. The portal either has a click through for agreeing to the terms and conditions or it requires that last name and room number be provided for authentication. In the case of the latter, there may also be payment required or there may be a premium service upsell. Once upon a time this architecture was perfectly reasonable, today it can be very problematic, especially when travelling with kids and their devices.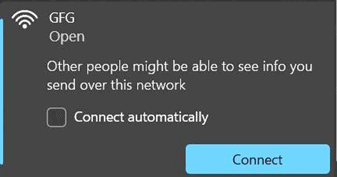 The infamous "Your Connection is Not Private" Browser Error
Nearly every device displays a prominent warning whenever it is connected to an open SSID. "Your Connection is not Private", "Unsecured Network," and other messages come up in the GUI.

While annoying, the network may still function for web browsing. What sometimes does not function are "headless," "IoT," phone applications, and "non-computer" devices, including many game consoles, e-ink readers, cameras, etc. Another example that confounds such systems is connected automobiles that use Wi-Fi for destination and schedule integration as well as map and traffic updates. Most of these devices lack the ability to get through the captive portal. In the best case, this necessitates a phone call to support with MAC address in hand to execute a manual bypass of the portal with a verbal agreement to the terms and conditions. In the worst case, this ultimately escalates into a problematic situation with kids on vacation as these devices will never be able to connect to the network as it is difficult or impossible to figure out the MAC address.
Straightforward Solutions Exist to Fix These Problems
There is a straightforward technology solution for taking care of both of those problems at the same time. Deploy a WPA2 secured Wi-Fi SSID and all the "insecure Wi-Fi" messages go away! The PSK (Pre-Shared Key) could also be used as an authentication token so there is no longer the need for the portal as a form of authentication. Interstitial redirection could be used to bring up terms of service only for devices that present a known good web browser. All devices, including "headless," "IoT," and other "non-computer" devices would be able to join the network seamlessly. The problem is the management of the PSK. We certainly don't want to use a single shared PSK… and if we have a unique PSK for each guest how do we manage all of this?
Combining Ease of Use with Security and Control
What if we could make a unique PSK for each guest that is derived from property management system (PMS) folio information? With the RUCKUS® WAN Gateway, integration with a PMS can be as simple as selecting the system from a drop-down, and entering a few details and "voila!", the guest info is now ted. In the simplest case, we would follow the last name and room number paradigm that is popular in existing captive portals. For example, you would use the PSK "smith212" if you checked into room 212 under the last name Smith. Similarly, you would use "garcia322" if you checked into room 322 under the last name Garcia. One can imagine creating this as part of the guest check-in process. However, this is time consuming and getting guests checked in quickly is an extremely important KPI for hotels. Automation would be the key to making this work.
A Personal "Wi-Fi" Password for Each Guest
Dynamic PSK™ (Pre-Shared Key) is a RUCKUS technology that allows a single WPA2 SSID to be broadcast that accepts multiple PSKs. The set of valid PSKs are stored within the virtual SmartZone controller in the standard version of Dynamic PSK. The network operator can manually create PSKs at will using the virtual SmartZone controller GUI. This is a perfectly reasonable way to work with multiple PSKs when IT staff are readily available. The e-Dynamic PSK variant allows the virtual SmartZone™ controlled wireless access points to consult an external database for the set of allowed PSKs. This variation of the multiple PSK strategy allows software external to the virtual SmartZone controller to determine the valid passphrases. Naturally we have a specific idea in mind regarding exactly which external software we will use to manage the passphrases.
Automating the Whole Process
The RUCKUS virtual SmartZone controller and RUCKUS WAN Gateway (RWG) are purpose-built to perform this automation. The virtual SmartZone controller provides external Dynamic PSK support while the RWG provides property management system (PMS) integration. These two pieces of RUCKUS software along with RUCKUS ICX® switches and RUCKUS ZoneFlex™ wireless access points are combined to deliver a unique hospitality guest HSIA experience that is highly compatible, secure, and reliable.
Comprehensive End to End Network Security
The RUCKUS WAN Gateway is a great fit for a hospitality gateway as it includes a captive portal with property management system integration. The RWG can be configured to implement the industry standard architecture where the gateway consults the PMS for portal authentication via last name and room number. However, we have a much more interesting architecture in mind as the RWG also includes an enterprise NAC (Network Access Control) that integrates with the virtual SmartZone controller and Dynamic PSK.
All Integrated Solution
One unique feature of the RWG is that it contains a hypervisor into which the RUCKUS virtual SmartZone controller can be installed as a guest VM within the gateway to deliver all network management in a single platform. Furthermore, the RWG can automate the configuration of the virtual SmartZone controller and monitor all of the WAPs connected to it. This tight integration means the RWG can auto-configure e-Dynamic PSK networks when combined with PMS integration, providing everything required for a premium guest experience.
Simple, Easy and Personalised for Optimal Guest Experience
The RWG has specific support translating the PMS folio information into e-Dynamic PSK networks such that the guests can enter their last name and room number into the PSK field for a guest WPA2 network. You can even assign dynamic VLANs through PMS room integration. This enables guests to cast to property-owned devices without the need for special apps or pairing seances of any kind. It just works!
Do you want to provide the best WiFi experience for your clients and staff? Get in touch with Nextro Team.